How dry ice blasting works?
Pellets of Dry Ice are shot out of a jet nozzle using compressed air.

When blasted against the material to be removed, dry ice causes it to shrink and lose adhesion from its sub-surface.

The warmer sub surface causes dry ice to convert back into CO2 gas and expand. This speeds up the cleaning.

After Dry Ice Blasting, the surface is clean and completely intact.
Benefits of Dry Ice Blasting
Non Abrasive

Superior Cleaning

Reduction of Plant Downtime

No Equipment Damage

No Waste Disposal
Non-hazardous

Sanitises the Surface

Cost Effective

Environmentally Safe

Supports Sustainability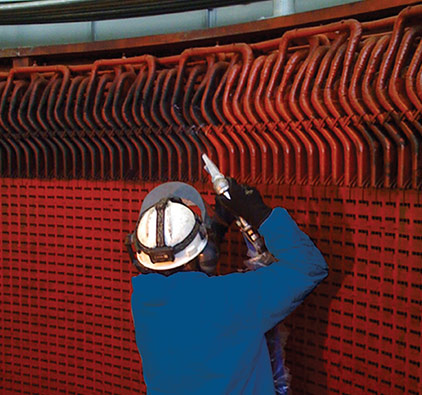 Types of Equipment that Dry Ice Blasting can Clean
Generator Stator-Rotor

Air Cooled Condenser

Printers

Turbine Rotors

Ducts

Conveyors and Chains
Heat Exchangers

Boilers

Food Processing Plant

Ovens

Tyre Industry

Grilles
Material Dry Ice Blasting Removes

Mould, Algae, Dirt/Dust, Soot/Carbon, Paint, Sugars/Syrups, Ink, Hydrocarbons, Pathogens/Bacteria, Adhesives/Resins, Manufacturing Residue, Cement/Blaster, Rust and Scale/Stains Tar and Bitumen, Expanded Foam